MISSION & VALUES STATEMENT
TECHNI's Mission is to be a manufacturer of reliable, innovative waterjet products and service, of such quality that our customers will receive superior value, while our employees and business partners will share in our success.
We are a proud and passionate team of committed, motivated, and reliable employees, with a high level of integrity and creativeness.
We work as a professional team that is committed to our process and increasing our knowledge in order to achieve our goals. We are quality focused, taking pride in everything we do.
TECHNI's success will be determined via our daily actions and through the core values we represent.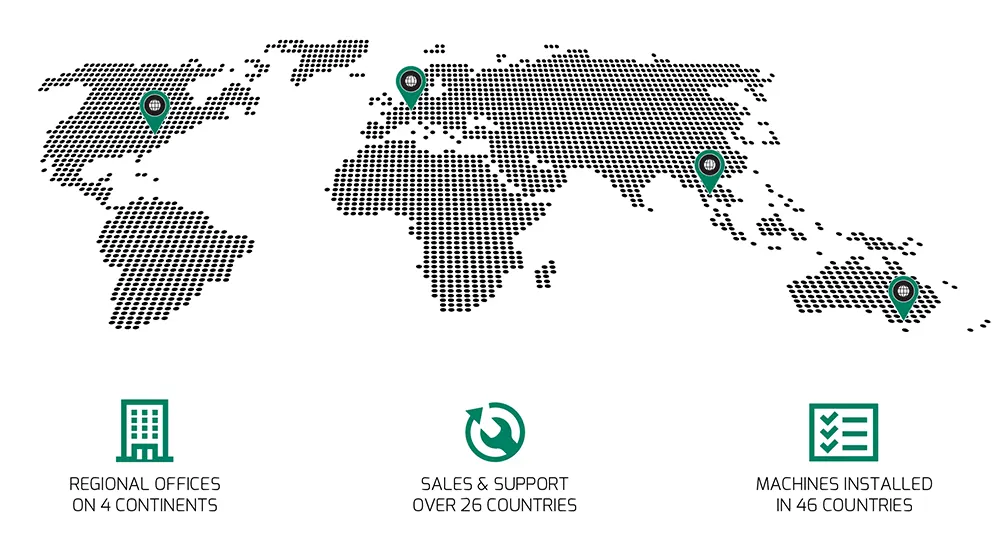 SERVICE – QUALITY – RELIABILITY
TECHNI Waterjet
®
is committed to offering machines of the highest quality.
The Intec
TM
G2 Series has been designed specifically for the very tough abrasive waterjet environment. It uses a minimum of moving parts, which have been manufactured from corrosion-resistant materials. This ensures the Reliability of the Intec
TM
G2 machines for many years after their installation.
All this is backed up by highly trained Service Technicians, who will treat any problem you might encounter with the urgency you, the Customer, require.
The company was formed in 1989 by Darren Reukers and Glenn Langdon to provide robotic and automation systems to the Automotive Industry. The company grew quickly and found a niche in the Robotic Waterjet Market, for high-speed trimming of automotive components such as roof linings, floor and trunk carpets, door trims and instrument panels. This led to the development of what is today one of the world's finest "Profile Waterjet Cutting Systems", the "Techjet™", and now the "Intec" the best value for money machine available, when measured by investment v's material cut.
Our team includes experienced engineers, practical technicians, skilled tradesmen and a highly trained sales network, with offices in America, Australia, Thailand and Germany, who can offer a solution customised to suit your exact requirements. We take the time to listen and learn exactly what you need and then provide the answer in the form that best suits the way you work and the products you manufacture.