Granite is the foundation stone of decor in the modern world. From granite countertops in kitchens to entire monuments, granite has extensive applications due to its physical properties and appearance.
The hardness of granite makes it challenging to work with. For example, technology like EDM cutting doesn't work on granite.
Waterjet technology is one of the best solutions for granite cutting. Granite water jet cutting has so many applications that it makes many alternative cutting techniques useless.
This article explores waterjet technology for cutting granite.
Can You Cut Granite With a Water Jet?
Yes, it is easy to cut stone using a waterjet, and not only granite, as a high-pressure waterjet cutter is ideal for cutting stone such as marble too.
A water jet can cut stone up to 12 inches, which is suitable for most stone-cutting applications. Most granite cutting jobs involve a thickness of just a few inches.
Benefits of Cutting Granite With a Water Jet Machine
There are many advantages to using a water jet to cut granite instead of other stone-cutting techniques.
Cold-Cutting Process
The cutting head does not generate heat, which helps avoid raising the temperature of the material being cut. Therefore, the granite suffers no heat distortion, making a cold cutting process aesthetically pleasing.
No Cracking
Marble and granite cutting is susceptible to cracking caused by heat or brute force used by many other cutting processes. However, waterjet technology avoids heating the granite, and the cutting nozzle is so precise that there is virtually no chipping.
Dust Free Cutting
Conventional stone cutting processes generate a lot of dust when cutting granite, marble, or other material. But granite cutting with a water jet is a dust-free process. The particles produced get dissolved in the water and washed away.
Eco-Friendly
Cutting with a water jet is an environment-friendly process. All the water used in waterjet cutting technology is recycled back into the system. The stone dust itself works as an abrasive for any later waterjet requirements.
No Secondary Finishing
Cutting granite with a water jet cutter creates a high-quality cut with edges so smooth that no further finishing is needed, saving time and reducing costs.
Use Cases of Waterjet Granite Cutting
There are many applications for precision granite cutting:
Kitchens: Granite is the go-to material for kitchen countertops because it is heat-resistant and not susceptible to scratches.
Tiles: Granite tiles make ideal wear-resistant flooring with a luxury feel. CNC-controlled water jet cutting machines guarantee high-quality results.
Fireplace: Granite's heat-resistant properties make it an ideal choice for fireplaces.
Wash Basins: Luxury sanitaryware is made using waterjet granite cutting. Three-dimensional cutouts are required in granite, which only a water jet cutting machine can deliver.
Jewelry: Small pieces of granite are utilized in jewelry. Traditional cutters and grinders cannot create precision cuts in pieces this small. But a waterjet cutting machine can make them with ease.
Tips to Improve Waterjet Granite Cutting Performance
A water jet cutter creates a smooth and clean finish on granite. Even so, the steps below will ensure optimal stone-cutting results.
Choosing the Right Parameters: The correct water pressure varies based on the thickness of the granite. Consult the manufacturer for recommendations.
Using the Right Abrasive: Waterjet cutting machines require an abrasive for cutting hard materials. Using uniformly sized garnet abrasive can create better quality cuts for granite cutting applications.
Stacking: Numerous granite workpieces can be stacked to produce consistent-sized cuts. This process significantly increases the productivity of waterjet cutting. And is something other granite cutting techniques like laser cutting or plasma cutting cannot replicate.
Using Mesh: The water used in the cutting process can be recycled. The granite residue should be mesh filtered as it exits the system. The machine manufacturer often provides a mesh. Clean the mesh filter regularly to maintain optimal water flow.
Getting the Right Water Jet For Your Cutting Needs
Waterjet technology is the best way to cut granite. However, the results will vary among different waterjet cutting machines, as they differ in features and capability.
To waterjet granite, you must search for a machine that best suits your requirements. Below are some factors to consider before buying:
Water Pressure
Precision waterjet cutting machines operate at high pressure. In simple terms, a high-end waterjet cutting machine will have higher pressure and a faster cutting speed.
An ultrahigh-pressure water jet (over 90,000 psi) can cut very hard materials such as steel. Since granite is softer, it does not require an ultra high-pressure waterjet. Medium-pressure waterjet cutting machines will work fine for cutting moderately hard materials.
However, high-pressure waterjet machines are ideal for products produced using the stacking method.
Underwater Cutting
Certain superior quality waterjet cutters, such as the Techni Waterjet range, can cut underwater using a submerged cutting table with the workpiece underwater.
What's the benefit of underwater cutting? The noise of the process is significantly reduced, and splashes are eliminated. This feature is appealing to some fabricators performing waterjet granite cutting.
Cutting Axes
The more movement axes a machine has, the higher the complexity of the parts it can make. A 5-axis waterjet cutter can handle most requirements.
Software Support
High-pressure waterjet machines are controlled by CNC software which provides automated process control. High-quality machines come with dedicated software for this purpose.
Budget
Some waterjet cutting machines with more features have a hefty price tag. Therefore, it is a good idea to calculate the budget you have to spend on a new waterjet cutter. Avoid paying for features that you will not benefit from.
The Best Waterjet Cutter For Granite and Marble
Are you planning to buy an industry-leading solution for your granite and marble cutting business? Techni Waterjet is the best choice!
Techni Waterjet offers a range of CNC water jet cutters with different features to suit every budget. These machines are capable of whatever you throw at them and much more.
Every model is equipped with dedicated software and several preloaded models for popular designs/shapes. Simply load the granite slabs on the cutter, enter the parameters, click on execute, and the process will be completed.
These machines offer several other advantages. Even if your priority is to cut granite at high speed, you will also be able to cut marble, quartz, steel, and any other material. There is no requirement to change tools either.
Conclusion
Natural materials such as granite and marble look so aesthetically pleasing because of the hard work that goes into preparing them, such as precision waterjet cutting.
Waterjet granite cutting offers many advantages and produces a clean finish that makes it readily usable for any application. It is the best solution in many cases.
Frequently Asked Questions
Here are the answers to some frequently asked questions people ask regarding waterjet granite cutting:
Will the granite crack when using a water jet?
No, waterjet cutting does not cause cracking or chipping. This is because the granite is placed on a flat cutting machine, and there is no undue force on the stone.
How thick can a waterjet cut granite?
Waterjet cutters can cut 12 inches of granite and other material of similar nature at high speed. It is possible to cut even thicker materials by using a slow-speed cut program and increasing the water pressure.
What pressure is needed for a water jet machine to cut granite?
On average, for water jet cutting granite, you need a good abrasive and water pressure of about 50,000 psi.
Can you achieve a perfect edge cut with a water jet machine?
Yes, getting a perfect edge with a water jet machine is easy. In fact, most granite tiles with a smooth finish are cut using waterjet technology without any need for extra finishing processes.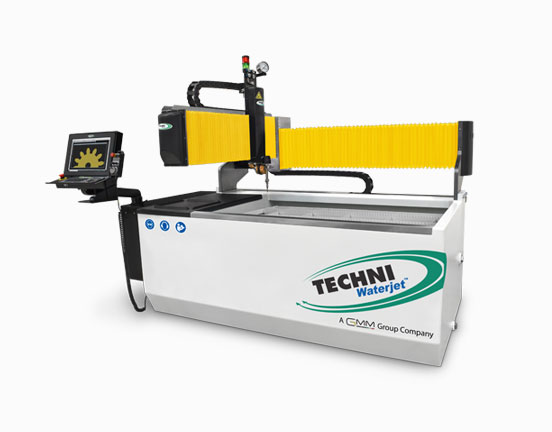 | | |
| --- | --- |
| Machine Size | 1700L x 2600W x 2050H mm |
| Cutting Table Size | 936 x 1576 mm |
| Machine Type | Cantilever |
| Accuracy of Motion | 0.1mm - 0.004" |
| Max Material Thickness | 200mm - 8" |
| Materials that can be Cut | Listed here |
| Price | Enquire for Price |
| | |
| --- | --- |
| Machine Size | 4900L x 2650W x 2050H mm |
| Cutting Table Size | 1860 x 3690 mm |
| Machine Type | Cantilever |
| Accuracy of Motion | ±0.15 mm - 0.006" |
| Max Material Thickness | 200mm - 8" |
| Materials that can be Cut | Listed here |
| Price | Enquire for Price |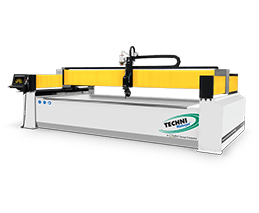 | | |
| --- | --- |
| Machine Size | 5800L x 3100W x 2100H mm |
| Cutting Table Size | 2000 x 4000 mm |
| Machine Type | Gantry |
| Accuracy of Motion | ±0.15 mm - 0.006" |
| Max Material Thickness | 200mm - 8" |
| Materials that can be Cut | Listed here |
| Price | Enquire for Price |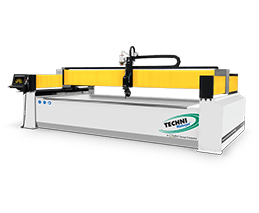 | | |
| --- | --- |
| Machine Size | 8000L x 4200W x 2000H mm |
| Cutting Table Size | 3200 x 6250 mm |
| Machine Type | Gantry |
| Accuracy of Motion | ±0.15 mm - 0.006" |
| Max Material Thickness | 200mm - 8" |
| Materials that can be Cut | Listed here |
| Price | Enquire for Price |
| | |
| --- | --- |
| Machine Size | 4200L x 2350W x 2050H mm |
| Cutting Table Size | 1550 x 3125 mm |
| Machine Type | Cantilever |
| Accuracy of Motion | ±0.12 mm - 0.005" |
| Max Material Thickness | 200mm - 8" |
| Materials that can be Cut | Listed here |
| Price | Enquire for Price |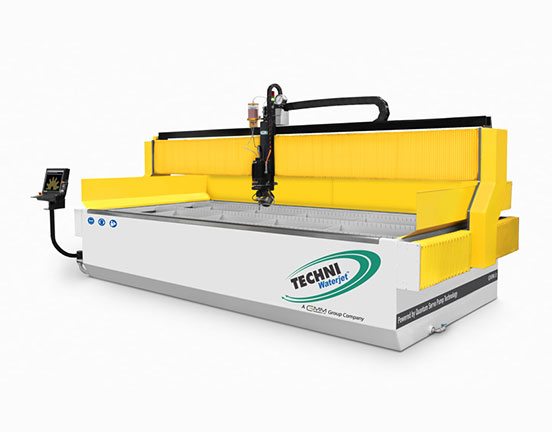 | | |
| --- | --- |
| Machine Size | 5200L x 2700W x 2300H mm |
| Cutting Table Size | 1930 x 3870 mm |
| Machine Type | Monoblock |
| Accuracy of Motion | ±0.12 mm - 0.005" |
| Max Material Thickness | 130mm - 5" |
| Materials that can be Cut | Listed here |
| Price | Enquire for Price |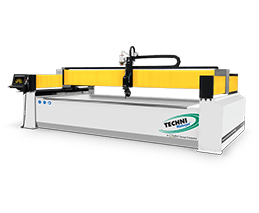 | | |
| --- | --- |
| Machine Size | 6580L x 3500W x 2100H mm |
| Cutting Table Size | 2380 x 4780 mm |
| Machine Type | Gantry |
| Accuracy of Motion | ±0.15 mm - 0.006" |
| Max Material Thickness | 200mm - 8" |
| Materials that can be Cut | Listed here |
| Price | Enquire for Price |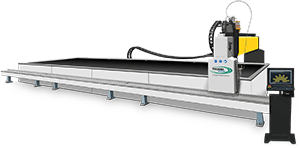 Machine Size
12800 x 5400 x 2200 mm
Cutting Table Size
10150 x 3270 mm
399.6" x 128.7"
Machine Type
Gantry
Accuracy of Motion
± 0.1 mm - 0.004"
Max Material Thickness
200mm - 8"
Materials that can be Cut
Listed here
Price
Enquire for Price
Share this article